Sporthorse®
Same trusted and proven formula in a great new look!
Hygain® Sporthorse® Performance Horse Supplement is a multivitamin and trace mineral concentrate, for use in horse's diets where additional supplementation of these nutrients may be beneficial.
Hygain® Sporthorse® is a complete, balanced multivitamin and mineral supplement in a highly palatable pelleted form, with the added benefits of a Prebiotic and Probiotic for optimal gut health. 
Sporthorse® is scientifically formulated to provide balanced levels of horse specific essential amino acids, bio-chelated minerals, vitamins and antioxidants.  Sporthorse® may be used to supplement a current diet, which is ideal for performance horses in training and competition. It can also be fed on its own, which is particularly beneficial for good doers and easy keepers requiring nutrients without the bulk of a full feed.
Soybean Meal, Canola Meal, Lucerne Meal, Calcium Carbonate, Hygain® Vitamin and Chelated Mineral Pre-Mix, Chromium Yeast, Bioavailable Selenium, Prebiotic (MOS), Probiotic (live yeast), Diacalcium Phosphate, Vitamin E and Flavour Enhancers
200g of HYGAIN SPORTHORSE provides the following levels of nutrients (as fed)
| | |
| --- | --- |
| Crude Protein | 50g |
| Calcium | 15g |
| Phosphorous | 4g |
| Magnesium | 1g |
| Iron | 500mg |
| Zinc | 545mg |
| Manganese | 484mg |
| Copper | 200mg |
| Selenium | 2mg |
| Vitamin A | 39000IU |
| Vitamin B1 | 30mg |
| Vitamin B2 | 50mg |
| Vitamin B6 | 15mg |
| Vitamin B12 | 160ug |
| Vitamin D | 5000IU |
| Vitamin E | 1000IU |
| Vitamin K | 25mg |
| Biotin | 5mg |
| Prebiotic | 10gm |
| Probiotic | 10gm |
Introduce HYGAIN SPORTHORSE to your feeding program over a 7 day period.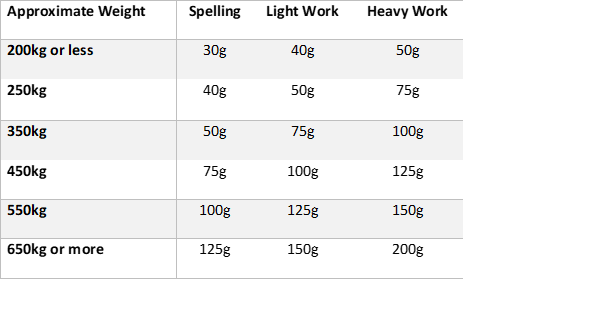 *Intended as a guide only, all variables should be taken into consideration.
Immune and Gut Defence
Probiotics to support a healthy gut and immune system
Super Digestion
Prebiotics aids in fibre, phosphorus and calcium digestion.
Muscle Repair
Natural Vitamin E for antioxidant, circulatory and cardiovascular functions
Lactic Acid Decline
Bio-Available Chromium assists in lowering lactic acid levels
Healthy Muscle Metabolism
Bio-available Selenium to assist your horses muscle metabolism
Hoof Booster
Biotin for rapid hoof development.
Min & Vit Power
Chelated Minerals are highly available and support healthy bones.